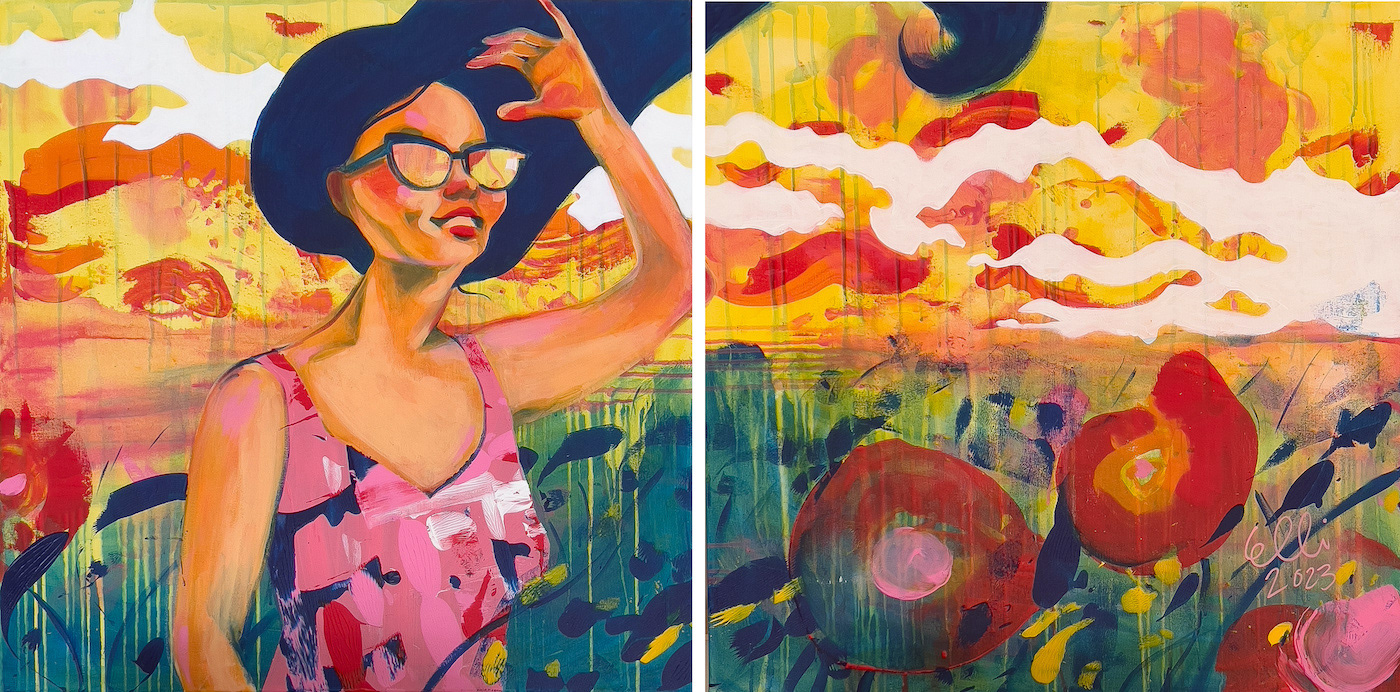 KESÄLAITUMILLE
Acrylic on canvas || 160 cm x 80 cm ||  2023
Elli Maanpää: Teokseni 'Kesälaitumille' on kuvaus huolettomasta kesähetkestä. Maalauksen keskipisteenä on hymyilevä nainen, jonka aurinkolaseissa kimaltelee auringonlaskun hehku. Naisen hiukset tanssivat tuulessa. 
Kukkaniittymaisema hehkuu vihreää, sinistä, keltaista, oranssia ja vaaleanpunaista - heijastaen kesäisen luonnon rikkautta. Laaja väriskaala tuo teokseen eloisuutta. 
Ikuistin kankaalle hetken: kesän taianomaisen tunnelman, jossa kaikki on mahdollista. 'Kesälaitumelle' on kutsu nauttia hetkestä.

In English: "My artwork 'To Summer Pasture' captures a carefree moment in the midst of summer. At the heart of the painting is a smiling woman, her sunglasses reflecting the brilliance of a sunset. Her hair dances in the wind.
The landscape of the flower-filled meadow radiates with shades of green, blue, yellow, orange, and soft pink, mirroring the richness of nature. The broad spectrum of colors infuses vibrancy into the piece.
I immortalized a fleeting instant on canvas: the enchanting ambiance of summer where endless possibilities reside. 'Summer Pasture' extends an invitation to revel in the present moment.
EXHIBITIONS
2023    Ikkunagalleria Elli, Helsinki, Finland