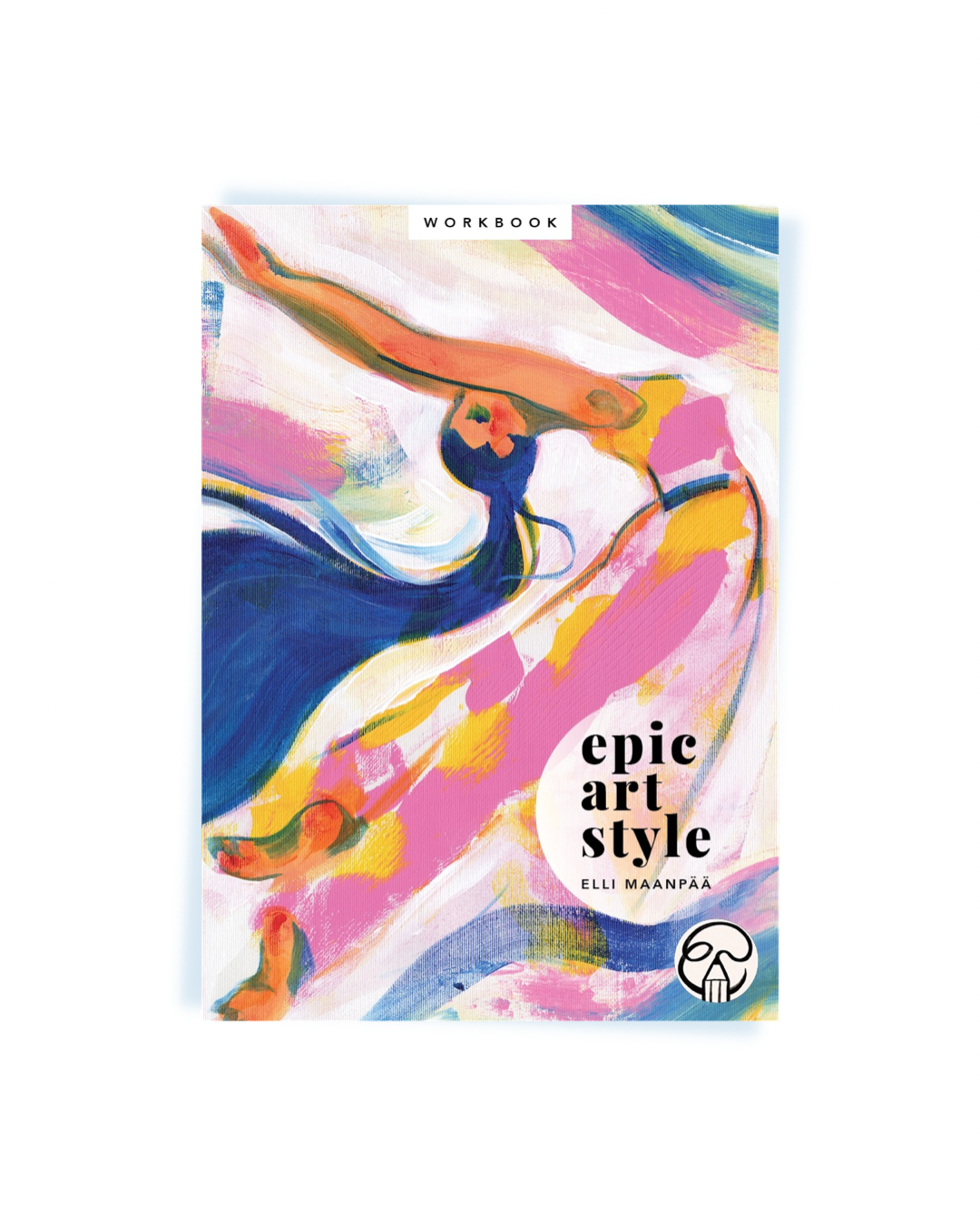 TAIDETYYLI harjoitusopas
|| EPIC ART STYLE  workbook || eBook || PDF || 2023
KUINKA LÖYTÄÄ OMA TAIDETYYLI?
⎯⎯⎯⎯⎯⎯⎯⎯⎯⎯⎯⎯⎯⎯⎯⎯⎯⎯⎯⎯⎯⎯
Tämän kattavan harjoitusoppaan avulla löydät ne salaisuudet, joiden avulla saat vapautettua oman äänesi, luovuutesi ja luotua tunnistettavan tyylin taiteilijana. Olet sitten kuvataiteilija, kuvittaja tai suunnittelija. Kirjassa on seitsemän lukua, joiden aikana sukellamme niin tunteisiimme, oman ilon maksimoimisen tärkeyteen kuin siihen miksi tunnistettava taidetyyli on arvokas osa taideuraa.
Opi käytännöllisiä tekniikoita, kuten väripaletin valikoimista ja mestareiden töiden analysoimista, oman yhtenäisen ja tunnistettavan taidetyylin kehittämiseksi. Tee tutkimusmatka siihen, kuinka voit käyttää taidettasi intohimojesi kaikukammiona. Tehdä taiteen avulla maailmasta enemmän omien arvojesi mukainen.
Olet sitten ammattitaiteilija tai vasta luovan matkasi alkupäässä, tämä digitaalinen harjoitusopas on arvokas resurssi oman potentiaalisi päästämisessä valloilleen.
Nauti oppaan ohjeista ja tehtävistä. Tämä on tilaisuutesi heittäytyä pohtimaan suuria kysymyksiä, kuten "Mitä elämältä oikein haluan?" ja tuoda se sitten esille taiteessasi. Joten tartu toisella kädellä pensseliin ja toisella käteeni - lähdetään tälle seikkailulle yhdessä.
HOW TO FIND YOUR ART STYLE?
⎯⎯⎯⎯⎯⎯⎯⎯⎯⎯⎯⎯⎯⎯⎯⎯⎯⎯⎯⎯⎯⎯
Discover the secrets to unlocking your unique art style with this comprehensive and inspiring art style digital workbook. Delve into 7 chapters that guide you through self-discovery, embracing joy in your creative process, and finding your artistic voice.
Learn practical techniques, such as utilizing color palettes and analyzing your inspirations, to develop a cohesive and distinct style. Explore the power of art to communicate your passions and make a lasting impact.
Whether you're a beginner or an experienced artist, this booklet is a valuable resource for unleashing your creative potential and standing out in the art world.
Enjoy the guidance provided in this art style guide. This is your opportunity to learn, grow, and uncover your own distinctive art style. Grab your paintbrush, embrace the joy of creation, and let's embark on this artistic adventure together!