First of all: thank you for participating in the Art Giveaways in Facebook and Instagram. We found the lucky winners today. The Penguin flies to Viivi and the Angry bird to Anni. Jey.
I'm working hard on the thesis paintings and hitting my head to the wall. I'm out of my comfort zone painting in humongous scale human portraits. It's not easy my friends. So instead of writing a blog post with some content I'm gonna go back to painting (and occasionally crying).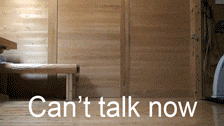 But I know I'm gonna get there. As long as I keep on it. Thank you for your understanding!